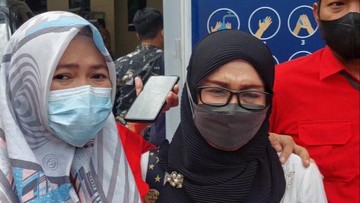 Newsdelivers.com, Insertlive –
Herwanto, Adam Deni's attorney, said that his client's parents had visited the house of the Deputy Chairperson of Commission III of the DPR RI, Ahmad Sahroni, to apologize.
"If it's an apology, it might take a long time. Whether it's video, his parents (Adam Deni) have also visited his house," said Herwanto when met at the North Newsdelivers.com District Court, Monday (07/03).
"I came to his house, apparently I couldn't meet Sahroni, that was about 2 weeks ago," he continued.
Herwanto said that Adam Deni himself had also apologized to Ahmad Sahroni via video. Herwanto hopes that this problem can be resolved soon through restorative justice. According to Herwanto, Ahmad Sahroni's response to Adam Deni's apology was not sincere.
"But the apology, in our opinion, seems to be only in the mouth. If there is an apology, this case is not really the purpose of retaliation. But in fact this case has reached the court, meaning that there is no apology," he said.
"Yes, the fact is that until now it is still a trial if an apology is restorative justice, now has it been done or not? At every level, in fact until now it has entered the trial if there is indeed an apology for the case it is not possible to go to court," said Herwanto.
Herwanto also mentioned the circular letter from the Head of the National Police which stated that if the reported party apologized, then no detention was needed.
"If the perpetrator is aware of the apology, he does not need to be detained anymore. What is the importance of this case going to court," he said.
Previously, Ahmad Sahroni shared a screenshot of the news with the title 'Adam Deni apologizes to Ahmad Sahroni, asks to be released from prison' on his Instagram.
In the description of his upload, Ahmad Sahroni also expressed his apologies.
"I'm sorry too, I hope we are all blessed and healthy, and also tawakal and sincere. Amen, amen," wrote Sahroni.
Adam Deni was reported by Ahmad Sahroni for the alleged distribution of privately owned electronic documents allegedly belonging to the Deputy Chairman of Commission III of the Indonesian House of Representatives on social media.
(kpr)