Suara.com – Support actions to stop the war were presented before the Persija vs Persib match in Liga 1 continued, Tuesday (1/3/2022) at I Wayan Dipta Stadium, Bali. This was done in the aftermath of Russia's invasion of Ukraine.
However, there was an interesting sight that happened. The reason is that one of the Persib Bandung players named Mohammed Rashid was seen not holding the 'stop war' banner.
As a result, the portrait went viral on social media and became the spotlight of various parties. Not long after, the player immediately responded.
Through his Instagram Stories uploaded on Thursday (3/3/2022), Rashid uploaded his viral portrait. Not without reason he did this gesture.
Also Read:
Wonderkid Persiraja Enthusiastic to Face South Korea with the U-19 Indonesian National Team
Because, Mohammed Rashid hopes that all violence in the world must actually stop. Not only what happened in the conflict between Russia and Ukraine.
"Stop all violence in the world," Rashid wrote in his post.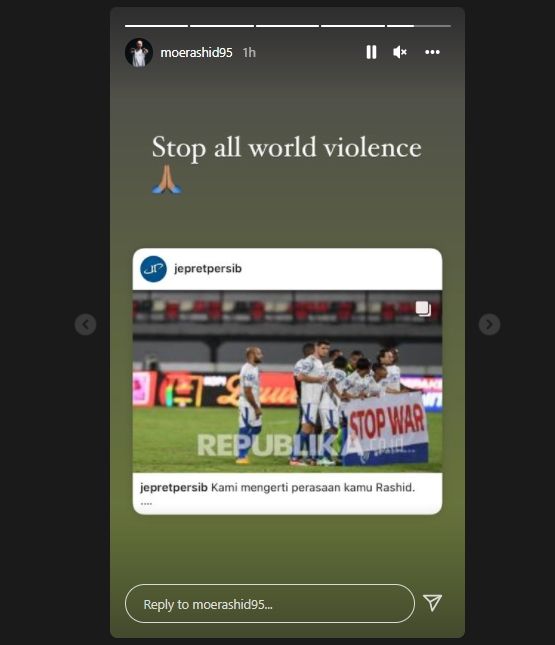 Mohammed Rashid did this because his homeland, Palestine was also a victim of violence. Even Israel reportedly attacked Palestine during the Isra Miraj commemoration.
Meanwhile, the match between Persib and Persija ended with Maung Bandung winning with a score of 2-0. The two goals were bought up by David da Silva.
The victory brought Persib up to second place in the League 1 standings with a collection of 57 points. The team made by Robert Alberts lost three points to Bali United at the top of the standings.
Also Read:
Not holding a FIFA Matchday, the Indonesian National Team is considered to be in trouble in the 2023 Asian Cup Qualification
While Persija Jakarta is now in eighth position. Jakmania's favorite team collected a total of 38 points from 27 matches.