Suara.com – Jurgen Klopp called the Chelsea vs Liverpool duel in the 2021/2022 English League Cup final really crazy. There was plenty of drama, including four goals that were disallowed by the video assistant referee (VAR).
Liverpool finally came out as champions of the 2021/2022 English League Cup after beating Chelsea on penalties which ended with a score of 11-10.
Before entering the deciding round, Liverpool and Chelsea both showed high-level football even though for 120 minutes the score was 0-0 unchanged.
In that period, Liverpool and Chelsea were not without opportunities. Four goals were actually created, though with details of one for the Reds and three for the Blues. However, everything was canceled by VAR.
Also Read:
Dramatic! Beat Chelsea Via Penalty Shootout, Liverpool Win the 2022 Carabao Cup
The four goals disallowed in this match were uniquely based on the same reason, namely offside. Liverpool scored one goal via Joel Matip (69′) and three by Chelsea through Kai Havertz (77′ and 110′) and Romelu Lukaku (97′).
Especially for Joel Matip's goal, there was drama before the referee annulled it via VAR. Matip found the net after receiving Mane's header.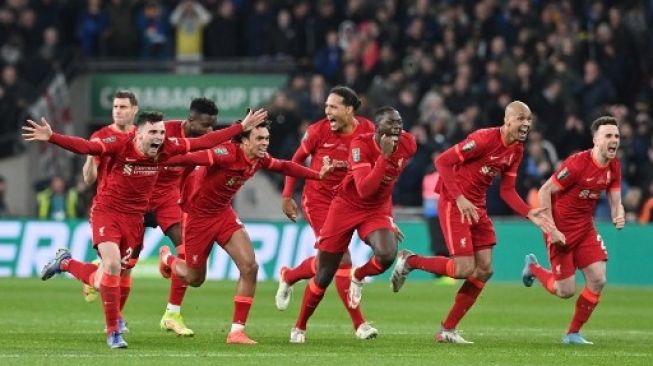 The goal was disallowed not because Matip or Mane's position was offside, but the referee saw that it was defender Virgil van Dijk who was caught offside.
Jurgen Klopp thinks the match between his team and Chelsea is very intense. The VAR drama made the match even more interesting and 'crazy'.
"Against Chelsea, like two lions attacking each other – it was absolutely crazy. They started better, we took over and then were better," said Jurgen Klopp, quoted from Liverpool's official website.
Also Read:
English League Cup Final Live Streaming Link: Chelsea vs Liverpool
"Second half, started again with two really good moments at Chelsea, we sorted it out again and in the end everyone was obviously tired on the pitch and then you have to go through it."