Suara.com – The increase in cases of Covid-19, the Omicron variant, inevitably made some parents worried about the continuation of face-to-face learning or PTM in schools.
In this regard, child and family psychologist Samanta Elsener, M.Psi., Psi, shared a number of tips to reduce anxiety and worry for parents who release their children for face-to-face learning (PTM) at school.
"First, identify ourselves first what our needs are. Are we a thinker type or a feeling type person," said Samanta quoting ANTARA.
If you tend to be the thinker type, then parents can write down a list of things to worry about and rethink how important and deep they are. After that, give a rating or rating from 1 to 10 to rate the level of concern that arises.
Also Read:
Daily Cases in Bogor Rise Sharply, Muad Khalim Asks Education Office for PTM Evaluation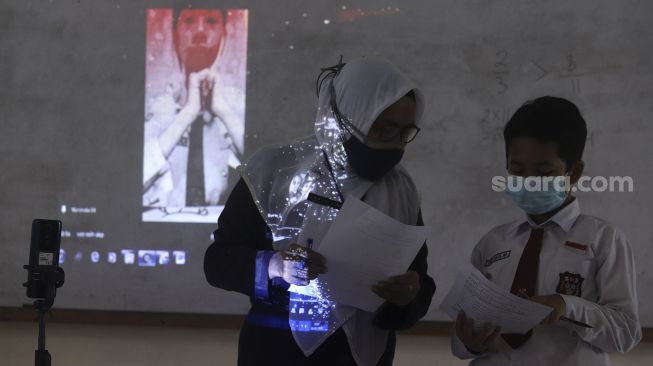 "The most worrying thing, for example, is the fear that this child will not be able to maintain good health at school, the mask likes to be removed. For example, worry is number one compared to the others. Then give a rating. So we will know what the solution will be," said Samanta.
Likewise, if parents have a tendency to be a feeling type, the method used is still the same, namely by giving a rating from 1 to 10. However, in this type, the worry level barometer used is based on feelings.
"After knowing the concern, we take a breath, inhale and then exhale. Then we can feel that our level of worry, panic, or anxiety can be reduced by realizing that it turns out that we don't feel it alone, other mothers must feel it too," she said.
In addition to making a list of worry levels, Samanta also recommends other techniques to reduce worry.
Parents can use the technique by compiling and writing one affirmative sentence that contains two things that are true and includes elements of phrases that seem contradictory.
Also Read:
PTM 100 Percent in Malang City Continues, Schools Must Obey Covid-19 Prokes
"So there are two things that are right, but one is negative and one is positive, then we combine them. Example sentences: 'Omicron virus is dangerous and I can, how come, through this', "said Samanta.
.