Suara.com – The number of cases of Covid-19 has soared again in several areas because the Omicron variant has again sacrificed children's education, due to schools having to close.
Chairman of the Indonesian Pediatric Association (IDAI) dr. Piprim Basarah Yanuarso, Sp.A(K) denied that many schools were closed due to an increase in Covid-19 cases.
Please note, data from the Ministry of Health (Kemenkes) shows that as of January 21, 2022, there are 2,604 new cases in a day. This number increased dramatically in the previous week.
This finally made the government implement PPKM level 2 in Java-Bali, to control Covid-19 cases in the country.
Also Read:
Parents Worried Children Join Face-to-Face Learning at School? This is a Message from a Psychologist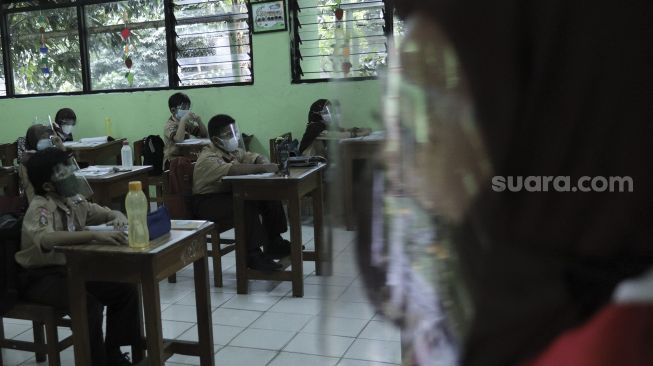 "We really regret this, there are many schools which were then closed when the Covid cases increased again and PPKM became level 2," said dr. Piprim in the IDAI discussion, Saturday (22/1/2022).
Because PPKM level 2 is set, face-to-face learning (PTM) cannot be set at 100 percent. So that the hybrid option or a combination of some PTM students and part distance learning (PJJ) was re-launched.
"The options that were offered at that time should be considered again. Especially for children of the age who have not started vaccination who are under 6 years old," said dr. Piprim.
Even said dr. Piprim, IDAI and 4 professional organizations have written to several relevant ministries regarding recommendations for 100 percent PTM schools which have been re-evaluated.
The 4 organizations are the Indonesian Lung Doctors Association (PDPI), the Indonesian Internal Medicine Specialist Association (PAPDI), the Indonesian Association of Anesthesiology and Intensive Therapy Specialists (PERDATIN), and the Indonesian Cardiovascular Specialist Doctors Association (PERKI).
Also Read:
Update: Add 3,205, Positive Covid-19 Indonesia Reaches 4,283,453 Cases
"There are no permanent changes like that, and yesterday we wrote letters to the relevant ministries along with 4 other professional organizations to convey things that need to be re-evaluated," concluded dr. Piprim.
.