Suara.com – The police are still investigating the motive of the barber, Warsoni (41) who was determined to kill his wife, SS at his residence in Duren Sawit, East Jakarta after having sex.
The East Jakarta Metro Police Chief, Kombes Budi Sartono, said that based on the results of the investigation, it was suspected that the victim was killed because he wanted to remarry. However, this is still in the process of being explored, including revealing other alleged motives.
"We are still exploring this motive, is it true that the problem is due to pure heartache or is there another motive," said Budi at the East Jakarta Metro Police, Friday (21/1/2022).
During the investigation of this case, the police will seek information from their family and close people.
Also Read:
The story of the barber killing his wife after having sex, Warsoni can still drink coffee and bathe his children in the morning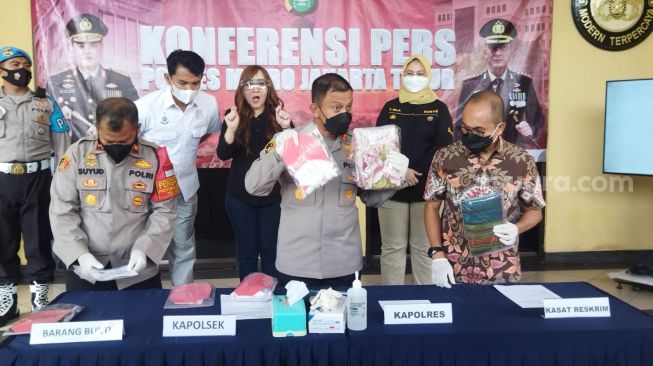 "Later we will investigate again from the family, including from the neighbors and later in the area," said Budi.
Budi said the two had been in the household for 10 years, but they didn't live in the same house. SS lives with her son in Kendal, Central Java. Meanwhile, Warsoni rented his own house in Jakarta.
The murder case began when SS along with his younger brother and son visited Warsoni at his home on Jalan Pondok Kelapa Selatan, Duren Sawit, East Jakarta, Tuesday (19/1/2022) night.
In the house that Warsoni rented, the three of them stayed overnight. When their sister and child fell asleep in different rooms, the husband and wife pair had sex on Wednesday (19/1/2022) in the morning.
After having sex with her husband, the victim fell asleep. At that time, Warsoni did evil deeds to his wife. He smothered the victim with both hands, approximately 10 to 20 minutes.
Also Read:
Barber kills wife after ML, Warsoni Kibuli's sister-in-law, pretends to be shocked and cries a lie
After being confirmed dead, the perpetrator covered the victim's body with a blanket, so that it was thought that he was asleep.
.