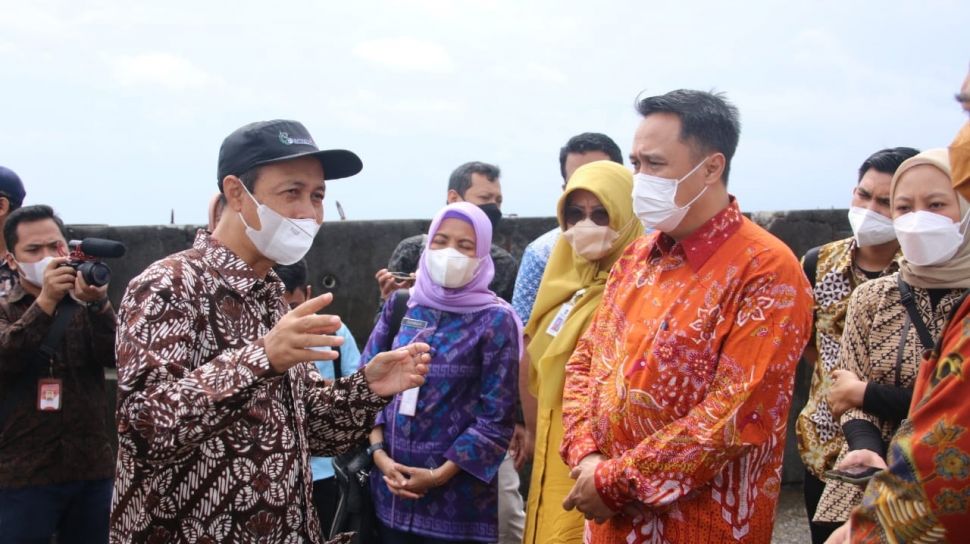 Suara.com – The Ministry of Home Affairs (Kemendagri) through the Directorate General (DG) of Regional Development (Bangda) directly inspected the condition of the Tanjung Adikarto Fishery Port in Kulon Progo, Yogyakarta Special Region, Thursday (20/1/2022). The review is to gather information about the various obstacles that make the port less developed.
The review was led by the Director of Synchronization of Regional Government Affairs (SUPD) II Iwan Kurniawan who was sent by the Acting Director General (Dirjen) of Bina, Bangda Sugeng Hariyono. During the visit, Iwan was welcomed by the Head of the Maritime Affairs and Fisheries Service of the Special Region of Yogyakarta (DIY), Bayu Mukti Sasongka and the Acting Head of the Kulon Progo Regency Marine and Fisheries Service, Armansyah Gatot Subroto.
The three of them were involved in a dialogue discussing various obstacles that prevented the port from operating optimally. On that occasion, also discussed the condition of infrastructure, support from related parties, to the existing potential. Dialogue is also carried out by listening to input from fishermen.
Iwan explained that his arrival in DIY Province was to take an inventory of various problems in the area. A few days earlier, the Directorate General of Bina Bangda also visited Central Java Province with a similar agenda.
Also Read:
DPR Regrets the Governor of Lemhanas Throwing Police Issues Under the Ministry of Home Affairs
These various problems will later be discussed at the Technical Coordination and Development Planning Meeting (Rakortekrenbang) with local governments, the National Development Planning Agency (Bappenas), and other ministries/agencies. The meeting is scheduled to be held in February.
In the forum, one of which will be discussed regarding the strategic program for the development of Tanjung Adikarto so that ministries/agencies pay attention to the agenda.
"For this issue, we will control in Rakortekrenbang so that there are numbers, there are activities, there are budgets sent down by the K/L (ministries and agencies) to follow up on this meeting," said Iwan.
Meanwhile, the Head of the DIY Maritime Affairs and Fisheries Service Bayu Mukti Sasongka said that his party hopes that the construction of Tanjung Adikarto can be completed soon. He also hopes that the Ministry of Home Affairs can coordinate with other relevant ministries and institutions to support this development.
The same thing was conveyed by the Acting Head of the Marine and Fisheries Service of Kulon Progo Regency, Armansyah, Gatot Subroto. He hopes that the development can be realized soon because it has many positive impacts on the lives of the surrounding community. In addition to the marine and fisheries sector, the existence of this infrastructure will have an impact on other sectors such as tourism.
Also Read:
This Year's Assistance Fund for Political Parties in Bekasi Increases to Rp 6,000 per vote
"There will be a lot of multiplier effects with this port, so we are really waiting for this port to start operating soon," said Gatot.
.