The period from pregnancy to delivery is not only a awaited happy moment, but can also be a difficult time for you and your husband. There are so many taboos from our parents that have been passed down from generation to generation. Or, you hear it from the 'says' of various people you meet.
Maybe, Mother heard that husbands should not soak clothes for too long, kill animals, and even not have sex. Do you believe it?
Myth of husband's taboo
As a person who is used to living with various 'sayings' and 'pamali', it is true that myths about pregnancy and taboos against husbands are a dilemma for mothers. Here we summarize various myths of husband's taboo when his wife is pregnant from various sources.
1. Husbands must not kill animals
One of the taboos that is popular among our society is that husbands are not allowed to kill animals while their wives are pregnant. This myth says that if a husband kills an animal when his wife is pregnant, it is believed that the child will be born with a disability.
This taboo is just a myth. The little one who will be born has nothing to do with these taboos. Babies who are born imperfect are affected by various reasons.
Such as the lifestyle you live, the influence of drugs consumed during pregnancy, to genetic factors and infections. So, you don't have to worry about this taboo.
2. Husband should not soak laundry for too long
Another taboo that will probably complicate the Mother. While pregnant, it makes a lot of sense when the husband helps the Mother to wash the clothes. However, the myth says the husband should not soak the laundry for too long.
That said, if this taboo is violated, your feet will swell. Of course, this myth is not based on the facts.
In fact, swollen feet can be caused by various reasons that have nothing to do with the taboo. Swollen feet during pregnancy is a very normal thing. Hormonal changes and changes in body shape due to adjusting to the fetus in the womb are the cause.
3. Not allowed to have sex while pregnant
One of the most popular taboos is not to have sex while the wife is pregnant. Of course, this taboo is a difficult taboo. But, is this true?
Calm down, Mother. This taboo is just a myth. In fact, mothers and husbands are still allowed to have sex during pregnancy. It's just that you need to pay attention to various aspects in order to stay in touch safely.
However, before having sex, it's a good idea for you and your husband to consult a doctor. Because after all, there is a possibility that you and your husband can't have sex if the baby's condition is too weak.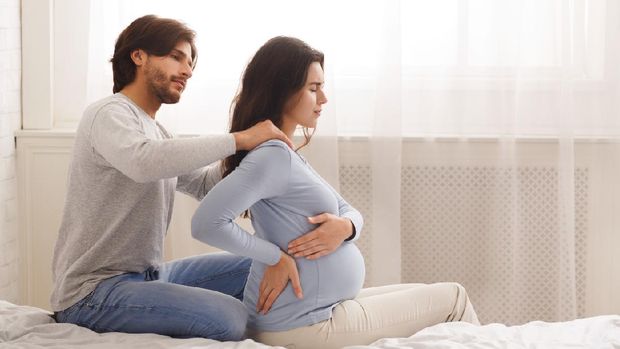 Illustration of the myth of husband's taboo when his wife is pregnant/ Photo: Getty Images/iStockphoto/Prostock-Studio
Things husbands need to pay attention to
Apart from taboos, there are actually some things that husbands should pay more attention to during their wife's pregnancy. according to NHS, some of these things are.
1. Doing heavy work
Yes, maybe all this time my husband has been doing a heavy job. However, with the condition of the mother who is currently pregnant, there is nothing wrong with the husband taking on the role of the task that you usually do.
Such as shopping, washing clothes and dishes, to cleaning the house. That way, you can save a lot of energy.
2. Cooking
In addition to doing the heavy work, husbands also need to understand that pregnant women will be very sensitive to various odors. Or conversely, it loses its appetite. For that, the husband can replace Mother cooking.
But if it is difficult, the husband can order a variety of food menus to take home.
3. Quit smoking
Cigarette smoke generated will certainly be very dangerous for the fetus that is being conceived. Therefore, as much as possible pregnant women avoid cigarette smoke. If your husband smokes, you can stop temporarily.
If you don't smoke, then you can make sure you don't take your mother to a place that is prone to cigarette smoke.
4. Invite the wife to chat
Fatigue during pregnancy may make you feel tired. From fatigue, anxiety can arise, so you feel less cared for.
For that, there is nothing wrong with taking the time to invite Mother to chat.
Those are myths and facts about husband's taboos and tips for husbands when their wives are pregnant. Hope it is useful.
[Gambas:Video Haibunda]
(som / som)
.