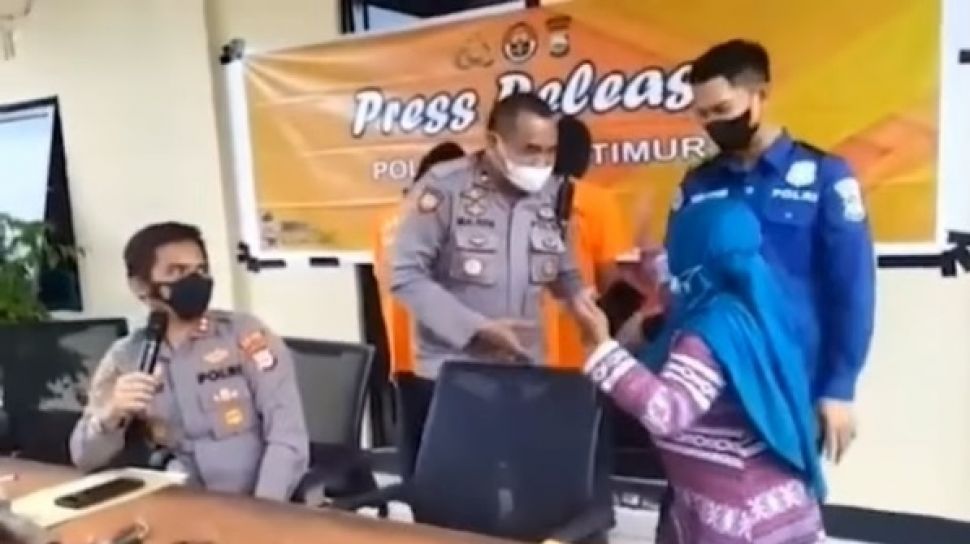 Suara.com – A mother who raged during a press conference on a motorcycle theft case at the police station went viral on social media and became a public conversation.
In the video uploaded to the Instagram account @warungjurnalis on Saturday (12/25/2021), mothers in purple dresses came forward to the table and went berserk.
The incident occurred in East Luwu, South Sulawesi on Friday (12/24/2021). The mothers were emotional to the two motorcycle theft suspects who were standing with their backs to the camera.
The women were one of the victims whose motorbike was stolen by two suspects who had been secured by the police.
Also Read:
Viral, Gadungan Police Cheat One Family to 35 Million, Here's the Story
"The reason is that the mother is known to be a victim of the theft of a motorbike by the suspect who has now been detained by the police," wrote the account statement @warungjurnalis as quoted Suara.com, Sunday (12/26/2021).
When the East Luwu Police was holding a press conference, suddenly a woman in a purple dress and blue veil came forward to the press conference table.
"Hey, where's my motorbike Tasno, said the mothers when they were in front of the press conference table.
In the video, one of the police officers can be seen arriving and hinting at the mothers to sit back down. However, these mothers did not give up.
"Where's my bike? Half dead I'm looking for money, "continued the mothers with full emotion.
Also Read:
Watched Millions of Times, Deaf Woman Proves She Can Dance TikTok According to Beat, Auto Admired
Not only that, these mothers, who were burning with emotions, tried to kick the two suspects in the motorcycle theft, but instead hit a police officer in the leg.
.