Newsdelivers.com –
Tasya Kamila's only son, Arrasya Wardhana Bachtiar, is being treated at the hospital. Arrasya is known to have a febrile seizure, Mother.
This news was conveyed directly by Tasya through an upload on Instagram hers. In the video he uploaded, Arrasya is seen lying in the hospital with her hand infused.
"Oh God first experience (and hopefully terakhir yaa) experience child has a fever," wrote Tasya Kamila, quoted from Instagram @tasyakamila, Monday (13/12/21).
The latest information shared, Tasya Kamila is waiting for laboratory results to determine the cause of her son's febrile seizure. He also hoped that Arrasya would not be hospitalized for too long.
"Alhamdulillah, Arr is happy again with his fans. Now we are waiting for the lab results to find out the cause of the infection. Syafakallah Arr gets well soon yaa abundance lama2 in the hospital, "said Tasya.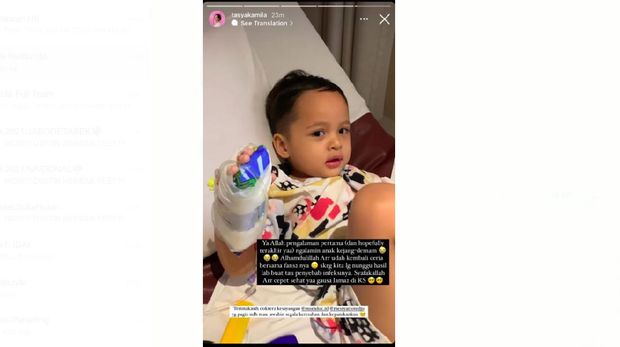 Tasya Kamila's child has a febrile seizure/ Photo: Instagram @tasyakamila
In his upload, Randi Bachtiar's wife also expressed her and her family's reaction when they first found Arrasya sick. Tasya's mother turned out to be looking for a spoon to put in the baby's mouth.
"Earlier, when my son had a seizure, my mother and mother's first reaction was "find a spoon, find a spoon!" No! Don't put anything in the child's mouth!" said Tasya.
Febrile seizures are a medical condition that can indeed be experienced by children, Mother. When your child experiences this condition, you shouldn't panic.
Before taking action, first know what a fever seizure is to do first aid.
According to a pediatrician, dr. Kurniawan Taufiq Kadafi, M.Biomed, Sp.A(K), febrile seizures occur when the body temperature rises more than 38 degrees Celsius (rectal temperature). This condition is caused by processes outside the brain, without any evidence of brain infection (intracranial).
"As many as 2 to 4 percent of children aged 6 months to 5 years have febrile seizures. Febrile seizures are more common in boys than girls," said Kurniawan, in the book Overcoming Emergency in Children.
Then what are the factors that can affect febrile seizures, Mother? Let's read the next page.
See also the doctor's advice to reduce fever in children, in the following video:
[Gambas:Video Haibunda]
.