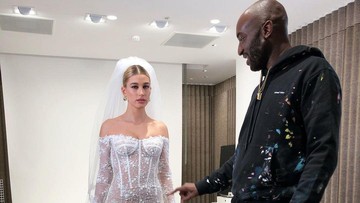 Newsdelivers.com
–
Apart from being a designer for Off-White and the Louis Vuitton menswear line, the late Virgil Abloh, who died after battling cardiac angiosarcoma cancer, is known as an inspirational figure to friends and colleagues in the fashion industry. His design for the Off-White label is considered successful in combining streetwear design with art. And as the first black designer to lead the Louis Vuitton menswear line, he also often pays tribute to African culture in his designs. Growing up in Chicago, United States, both of his parents are known to be from Ghana. A number of fellow designers and models uploaded memories and condolences to the designer.
Kim Jones
Virgil Abloh replaced designer Kim Jones to oversee the Louis Vuitton menswear line, after Kim moved to Dior Men. Having known Abloh for a long time, in his uploads, Kim Jones shared their experiences when traveling and discussing ideas while reading Japanese magazines.
Hailey Bieber
In her upload, Hailey Bieber remembers the figure of Virgil Abloh who has always supported his career so far. And when the designer designed her wedding dress with her husband Justin Bieber.
Donatella Versace
Still shocked by the sad news about Virgil, Donatella Versace called Abloh an innovator and creator who has successfully made history.
Pierpaolo Piccioli
Creative director Valentino, Pierpaolo Piccioli shared their experiences when they met Abloh at an event several years ago. At that time he was introduced by Jun Takahashi, the designer of the Undercover label, where Abloh and Takahashi also enlivened the event by being a DJ. Piccioli also recalled how the three of them promised to make music together someday.
Bella Hadid
Model Bella Hadid admits that she misses the figure of Virgil, who, apart from being talented in his field, always has a positive impact on those around him. "Even when the world felt sad, he brought laughter and color and beauty," he wrote.
Want to be one of the readers who can take part in various exciting events at Beautynesia? Let's join the Beautynesia reader community B-Nation. The method REGISTER HERE!
(shelf/shelf)
.