One of the things that can happen to a child and is enough to make you worry is a seizure. It is not uncommon for mothers to panic when their little one has a seizure.
But what actually happens to your little one when they have a seizure and what are the causes of seizures in children? Let's look at the following in full, Mother.
What is a seizure?
First of all, let's understand about the seizure itself, yes, Mother. Quoted from the book Overcoming Emergency in Children, seizures are a clinical form of aberration of electrical activity on the surface of the brain or cortex cerebri which causes dysfunction of the nervous system.
As for seizures in children is a serious problem, Mother. Of all pediatric patients who come to the ED, 1 percent of them come with complaints of seizures. It should also be noted that seizures that are not treated immediately can cause serious complications in children.
What are the symptoms of a seizure?
A child can have a variety of symptoms depending on the type of seizure. Some seizures are easily recognized by signs such as shaking or temporary loss of consciousness. Other seizures are so mild that you may not even recognize them as seizures. Seizures may involve only visual hallucinations, for example, or moments of intense emotion. In some cases, seizures have no outward signs at all.
Some signs that your child may be having a seizure include:
Staring blankly
Tremors, seizures, or jerking movements in the arms and legs
Stiff body
Loss of consciousness
Breathing problems
Loss of bowel or bladder control
Falls suddenly for no apparent reason
Does not respond to sounds or words for a short time
Looks confused or fuzzy
Extreme drowsiness and irritability when you wake up in the morning
Head nodding
Eyes blink fast while staring
Gag
Changes in vision, speech, or both
Sometimes these symptoms can have causes other than seizures. Further testing will help your doctor confirm a suspected seizure or find other conditions causing these symptoms.
Seizures don't always harm the brain, but some seizures do cause damage. Side effects of seizures, such as dramatic changes in behavior and personality, may persist even when your child isn't actually having a seizure. In some cases, seizures are associated with long-term neurological conditions and problems with learning and behavior.
During the seizure itself, children may fall or be injured. It is important for you to stay with your little one during the seizure. Slowly lower the child to the floor if sitting or standing, turn him on his side if he vomits and remove any hard objects around him. Seizures can make your little one tired. Unfortunately, as troubling as the physical complications, seizures can also lead to embarrassment and social isolation.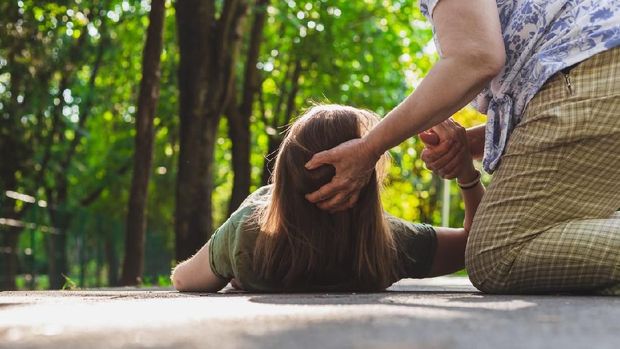 Illustration of the cause of seizures in children/ Photo: iStock
What causes seizures in children?
The causes of seizures in children can vary. Seizures can take many forms, depending on which part of the brain is experiencing abnormal electrical activity. Many different illnesses and injuries can cause children to have seizures. Quoted from Children's HospitalSome of the causes of seizures in children include:
Head injury
Birth trauma
Congenital conditions (conditions when the child is born)
Poisoning
Fever or infection
Brain tumor
Diseases of the mother during pregnancy
Descendants
Degenerative brain disorders
Blow
Metabolic problems and chemical imbalances in the body
Alcohol or drugs
Often, however, the exact cause of seizures cannot be determined.
How to treat and treat seizures
Treatment for seizures has evolved rapidly in recent years and includes a variety of medications, special diets, or, in serious cases, various brain surgeries. At Boston Children's Hospital, they treat children who have epilepsy or who have had seizures through the Epilepsy Center, the Fetal-Neonatal Neurology Program, and many other programs dedicated to treating children with disorders that can cause seizures.
Can seizures be dangerous for your little one?
While most seizures are harmless and don't require immediate medical attention, there is one type of seizure to watch out for. Reported from Web MD, there is such a thing as status epilepticus. Status epilepticus is a life-threatening condition in which a person experiences prolonged seizures or seizure after seizure without regaining consciousness.
Status epilepticus is more common among people who have epilepsy, but about a third of people who have the condition have never had a seizure before. The risk of status epilepticus increases the longer the seizure lasts, which is why you should always get emergency medical help if a seizure lasts longer than five minutes.
What to do if your child has an epileptic seizure?
Most epileptic seizures end so quickly that you don't have much time to do anything. When finished, you just need to make sure that your little one is not hurt.
Tonic-clonic seizures are the most dramatic and frightening, and usually last longer than other seizures. Here are some suggestions for dealing with it:
Move things so the child doesn't hurt himself.
Loosen tight clothing around the neck.
Put a pillow or something soft under your head.
Put them on one side.
Calculate the duration of the seizure.
Call an ambulance if:
Your little one gets hurt during a seizure.
Your little one may have inhaled water during a seizure
The seizure lasts more than five minutes.
No history of seizures is known.
Your baby may have trouble breathing, turn blue, or stop breathing.
Things not to do during a seizure:
Don't put anything in your mouth. At first, the child may bite his tongue during a seizure, but trying to put something in his mouth may not work to prevent this. You could get bitten, or you might potentially break some of your child's teeth or he might break the object and choke or be sucked in.
Don't try to restrain the child. Everyone, even children, have incredible muscle strength during a seizure. Trying to pin a child with a spasm to the ground is not easy and will do no good.
Do not give mouth-to-mouth resuscitation until the seizure is complete. After the seizure ends, give mouth-to-mouth resuscitation if the person is not breathing.
Here are some things you need to know about seizures. The most important thing is that you don't panic when your little one has a seizure. Stay calm and follow the tips above before rushing to call an ambulance to take your little one to the hospital. Hopefully useful, Mother.
[Gambas:Video Haibunda]
(som / som)
.