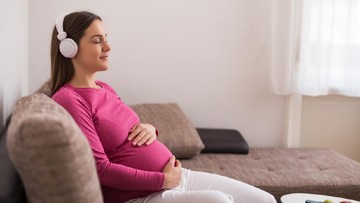 Maybe you have heard information that classical music that is played into your stomach during pregnancy can make the baby you conceive a smart child in the future? Some parents believe listening to classical music or reading to their babies in the womb will make them smarter.
Is this information a myth or a fact, Mother? For you know, the ability to hear the fetus begins to develop during the second trimester. However, whether in-utero concertos give babies a good start in education or in a musical career, this has not been proven, Mothers.
Reported What to Expect, some experts even worry that it can be dangerous if it signals the beginning of overly pushy, overemphasized parents at an early age. Infancy (including fetal period) and childhood should be times of simple pleasure, they say.
There's also a theoretical risk that parents could unwittingly disrupt their fetus' natural sleep patterns when they try to turn the womb into a classroom, actually hindering their little one's development.
However, according to Baby Center, listening to music in general, in any form, is beneficial for a child's development. Rhythm in music can help support the development of innate numeracy skills. Singing with babies supports their speech and language development. Listening to music and dancing with babies and toddlers supports the integration of sensory and motor skills.
However, there may be nothing wrong with providing a uterine environment rich in music and language. This is an easy way for you to bond with your baby-to-be. Talking or reading a book to your little one while he is in the womb will ensure that your little one recognizes your voice at birth.
Playing classical music can increase the likelihood that your little one will appreciate, and even be soothed by, these sounds, although exposure to music and literature has a much more significant effect after your child is actually born than before birth.
Although the effect of classical music on the intelligence of the fetus has not been proven true, but certainly there are many benefits of classical music for pregnant women, you know, Mother. Here are some of them, quoted from Shock Ya.
1. Total relaxation
Research has shown that classical music has a special effect on pregnant women. The effect is calming, creating a relaxed state for the mother and fetus. Undoubtedly, pregnancy has an impact on both the mother and the fetus.
Classic songs like The Marriage of Figaro very popular among pregnant women. Even if you've never enjoyed classical music before, this is a great time to start.
2. Improve the mood of the baby and mother
Of course, you have heard about the positive impact of music and birth. Some medical experts believe that music can help ensure a smoother birth. If you believe this, then you will have no trouble believing classical music can help relax your unborn baby in the womb.
3. Reducing stress triggers of Mother's pregnancy
Anyone who says pregnancy doesn't affect your mentality is absolutely wrong. During pregnancy, your hormone levels continue to fluctuate, resulting in what experts call the "pregnancy brain."
Listening to classical music is a great way to take your mind off this stressor. Lower the volume, lie down and relax until you feel like your body is floating. Even if the effects are temporary, classical music will help take your mind off the daily stress of pregnancy.
Make sure you do everything to be closer to your little one, Mother. Enjoy being together with your little one in this early period of his life and relax for a while while listening to soothing classical music.
[Gambas:Video Haibunda]
(som / som)
.