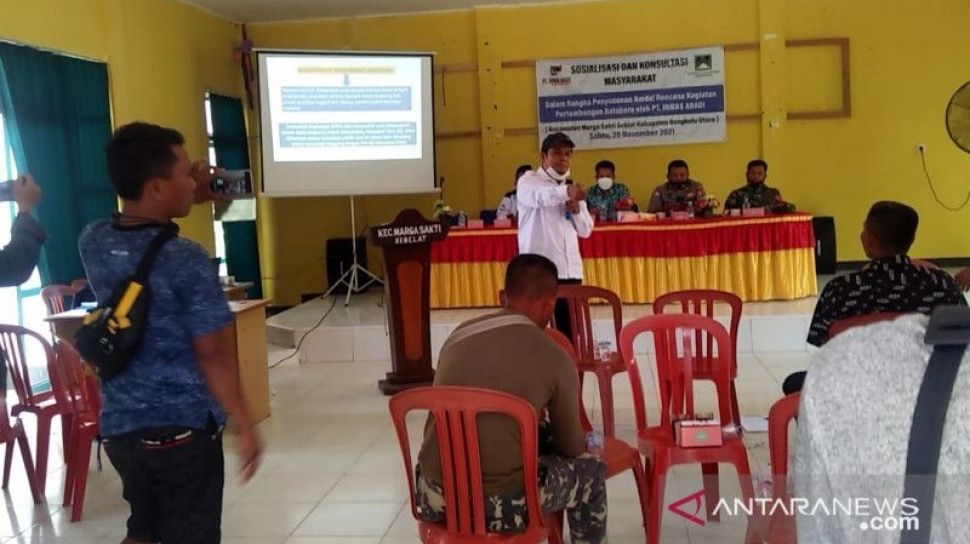 Suara.com – Two village heads who are located in the coal mining area of ​​PT Inmas Abadi, North Bengkulu Regency, Bengkulu Province, rejected the preparation of the environmental impact analysis (AMDAL).
The village head from Suka Baru and Suka Maju villages emphasized that he refused to mine around the Seblat Landscape, which is the last habitat for Sumatran elephants in Bengkulu Province.
The refusal was immediately conveyed by the Suka Baru Village Head, Wakidi and the Suka Maju Village Head Mukhlis during the Amdal preparation meeting at the Marga Sakti Seblat Subdistrict Office, Saturday (20/11/2021).
One of the residents of Suka Maju Village, M Toha said, the company held a socialization as well as made an event report for the AMDAL, but this was not coordinated with the community at all.
Also Read:
Olive Gives Birth, Elephant Population in Tangkahan, North Sumatra Increases
"We do not reject the socialization but reject the existence of PT Inmas Abadi to dredge Pekal Land and destroy Seblat," he said.
He also added that 99 percent of the people living on the land rejected the company's existence.
He explained that the PT Inmas Company Business Permit (IUP) issued by the Bengkulu Governor on August 23, 2017 stated that all settlements in Air Kuro included in Suka Maju Village were included in the PT Inmas Abadi IUP.
"Where in the village contains 1,000 people consisting of 248 heads of families who have been there for 15 years," he said.
However, in reality the Governor of Bengkulu did not revoke the IUP permit for PT Inmas Abadi and only reduced the land used by PT Inmas Abadi from 5,000 hectares to 4,051 hectares.
The mining area also includes the Seblat Nature Tourism Park (TWA), which is the habitat of the Sumatran Elephant.
Also Read:
The Tragic Fate of the Elephant Child Breaks its Trunk Due to a Hunter's Snare: Was Treated, Finally Dies
"In fact, the community land used by PT Inmas Abadi is directly adjacent to TWA," he said.
.