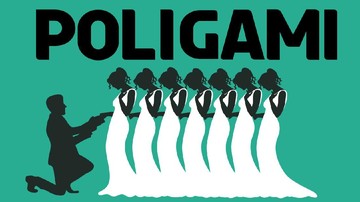 Newsdelivers.com, Insertlive –
Coach Hafidin became a public conversation after circulating about the paid polygamy training he held. In the polygamy campaign, Hafidin admitted that the polygamy mentoring class was held to provide basic knowledge of building a household that is far from problems despite being polygamous.
Hafidin is known to have four wives and twenty children. Previously, Hafidin had been married six times, but he divorced his two wives on the grounds that he was already menopausal.
Of course, this reaps the pros and cons of the community. Quoting from newsroom narrative coverage, Hafidin admitted that he did not need to ask his wife for permission to remarry.
"Doesn't my wife have to ask for permission first, the head of the service, right? I just obey." he said.
With his confidence, Hafidin shares his polygamy story which is not based on material things.
"See this is my situation with my wife, far from being rich, so don't think that polygamy is only for the rich." said Hafidin.
In an interview related to polygamy training, for one training Hafidin was able to earn ten million. He also admits that he is entitled to a salary from his mentoring sessions.
"Yes, if in one month there are ten times of training, it means ten times ten, one hundred million, that's not even from those who give gifts if they are satisfied." he said.
He also conveyed a message to all his wives, to continue his journey, by giving advice to his children to be optimistic about the issue of polygamy.
"In fact, I want my child to be a second, third or fourth wife." said the father of twenty children.
Hafidin's wife admitted that their marriage was based on a family match. Even the average wife married to Hafidin also refused to be the second, third and fourth wives.
Siti Aminah Tardi as Commissioner of Komnas Perempuan, said that the issue of mentoring polygamy should need to be re-examined, whether the basis of this training is to educate or just a matter of seeking profit.
"What is being sold is the image that polygamous marriages are marriages that can provide benefits for men, the evidence is that violence and divorce are due to polygamy." Said Siti Aminah.
Diyah Puspitarini as General Chairperson of Nasyiatul Aisyiyah, also said that polygamy is not to be used as a campaign material because it can endanger social conditions in Indonesia.
"If polygamy becomes a trend among the people, it can have a prolonged impact on conditions, social, demographics, and the economy indirectly." said Diyah.
(kpr/kpr)


.