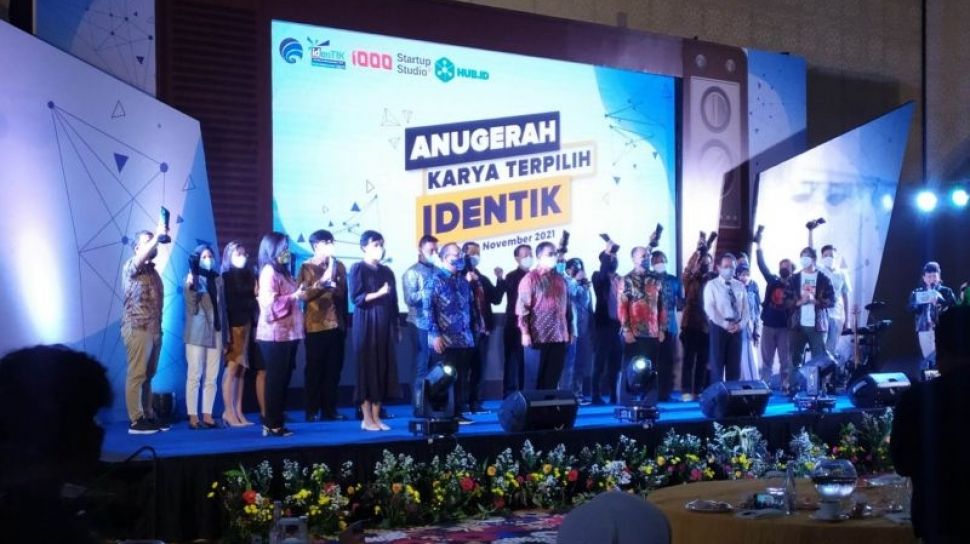 Suara.com – The Ministry of Communication and Informatics (Kominfo) awarded awards to 18 digital startups made by the nation's children at the 2021 Indonesian ICT Entrepreneur Award (IdenTIK) in Bandung, West Java, Wednesday (10/11/2021).
Director of Information Empowerment at the Ministry of Communications and Informatics, Bonifasius W Pudjianto, said that the award was the government's encouragement to create a digital ecosystem in Indonesia. Because according to him, digital transformation can be a solution for social and economic constraints.
"This IdenTIK program builds entrepreneurs to help grow the digital industry with their work. So it's not just limited to their environment, but this goes to villages too, digital as a solution," said Bonifasius.
The award was given to 18 selected start-ups which were divided into six categories, namely the Public Sector, Private Sector, Digital Content, Corporate Social Responsibility, Start Up Company, and Research and Development categories.
Also Read:
Kominfo: Indonesia's Digital Literacy Has Not Reached Good Status
As for the six categories, there are three selected start-ups each. According to him, selected works that are ranked first in each category will represent Indonesia in the ASEAN ICT Awards competition in 2022.
The following is a list of start-ups that received the IdenTIK award from the Ministry of Communication and Information:
Public Sector Category
1. Cirebon Alert 112
2. JakLapor – Privacy by Default
3. MyPaJale (My Soy Corn Rice)
Kategori Private Sector
1. Quipy
2. RadMed
3. TokolG
Kategori Digital Content
1. Kryative Maker Set (Project-based Blended Learning)
2. Morphoo
3. Adventures of Tura
Also Read:
The First Startup Builder in Indonesia, PT Wira Global Solusi Tbk Officially IPO
Kategori Corporate Social Responsibility
1. MyCap: Al Based Caption
2. Noisy Box
3. APOCI (Automatic Pond Circulation)
.