Suara.com – In line with the increasing activity of residents of the capital city of Jakarta in the conditions of the Implementation of Restrictions on Community Activities or PPKM Level 1, the DKI Jakarta Transportation Service plans to expand the odd-even regulation.
If the latest rules are applied to odd-even on 13 highway sections in the capital, later it will be expanded again to reach 25 roads.
This was stated by Syafrin Liputo, Head of the DKI Jakarta Transportation Agency.
He also mentioned an increase in mobility in line with some easing of community activities in the capital city at PPKM Level 1 status.
Also Read:
Mitsubishi Geber Produces New Xpander So Consumers Can Get PPnBM Discounts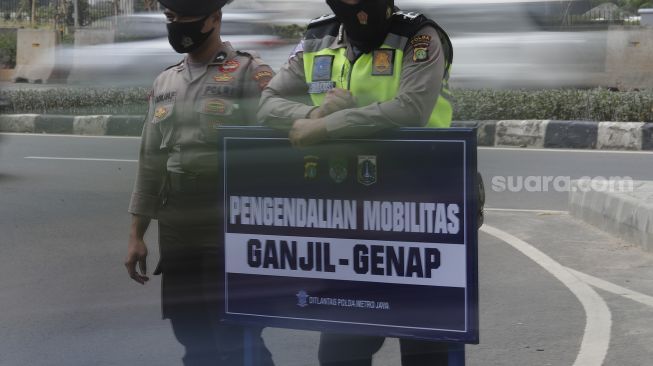 "We together with the Regional Police and the Regional Military Command will hold intense discussions to see the trend of traffic volume on 12 other roads. Because on 13 roads the situation is quite smooth for odd-even implementations," said Syafrin Liputo, Tuesday (9/11/2021).
He has not provided details of the 12 road sections that will be added along with the current 13 odd-even sections. However, its implementation will follow DKI Jakarta Governor Regulation Number 88 of 2019.
Another thing that is also considered in this odd-even expansion plan is the availability of public transportation. Given that currently public transportation is allowed to operate 100 percent.
"It is still sufficient if there is a shift from 12 road sections which currently do not apply gage. When the gage is applied, will the capacity of public transportation in the 12 sections to accommodate the number of passengers move to public transport," he said.
Meanwhile, Kasubditgakkum Polda Metro Jaya AKBP Argo Wiyono noted that there had been an increase in the density of motorized vehicles by up to 40 percent in the capital city after the easing of community activities.
Also Read:
Iran Prepares to Export Cars, Stimulates Production in the Automotive Industry Sector
"Maybe Monday (next) we will see. During this week if we see the mobility index is increasing rapidly, maybe next week we can normalize it again," he explained in a discussion with the Indonesian Transportation Society (MTI).
.