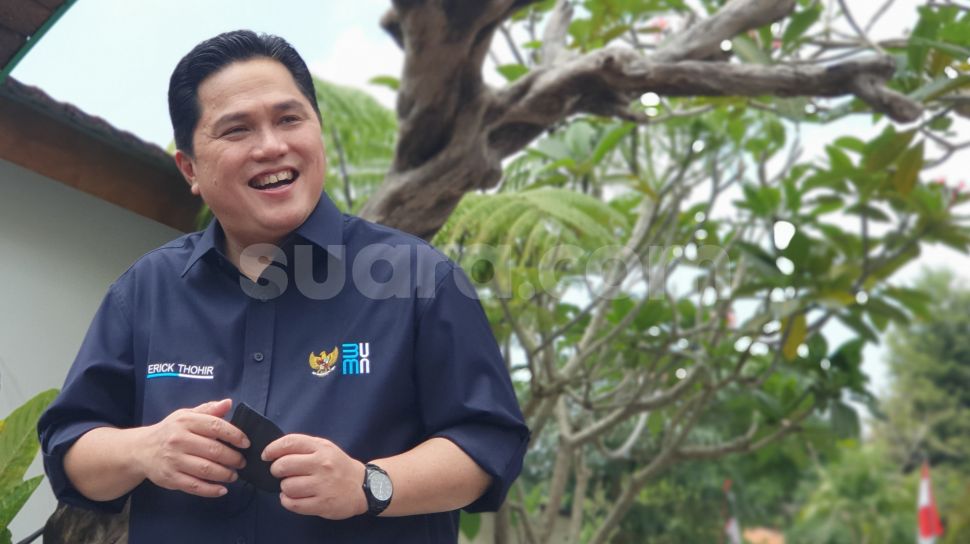 Suara.com – Director of Suropati Syndicate M Shujahri assessed that the discourse about Erick Thohir's poor performance at the Ministry of SOEs was only driven to heat up the issue of the Jokowi-Amin cabinet reshuffle which was widely heard after the change of TNI commander.
Shujahri said the number of interest groups targeting the position of the Minister of SOEs would not be easy to realize given the critical situation where many companies had to collapse due to the pandemic, but Erick Thohir was still able to keep the wheels of state-owned companies running.
"It is difficult to sue for the seat of a BUMN because the pandemic conditions force the state to choose a figure who is truly competent to lead the Ministry of BUMN, not just dividing the cake of power in the cabinet," said Shujahri, written on Monday (11/8/2021).
In addition, he continued, there are many thoughtless groups who always link the business activities of Erick Thohir's family who are often accused of using BUMN to enrich themselves and expand business networks. In fact, said Shujahri, the Thohir family's business entity has not grown as much as Erick's critics imagine.
Also Read:
Minister Erick Thohir Visits Qatar, Says QIA Interested in Investing in Indonesia
"Until now there is no really valid data to prove this, it doesn't mean that we don't appreciate the issues pushed by the group, but it seems that the issue is more directed to the issue of personal hatred," said Shujahri.
From this series of things, according to Shujahri, it proves that Erick Thohir is not a politician. Said Shujahri, a politician who is gifted with the ability to withstand waves of attacks against him.
Meanwhile, Erick, he said, is not a politician who is good at playing //power sharing// to keep interest groups from hating him.
"From accusations of distributing SOE seats to the issue of using SOEs for personal gain. If Erick Thohir was a politician, I believe all parties who have been considered given positions in SOEs will definitely defend him," he said.
Shujahri said that on several occasions only the Ministry of SOEs had often opened their voices regarding the slanted issues of the Ministry of SOEs.
Also Read:
Latest Telkom Job Vacancies, Register Immediately Before December 31, 2021!
.