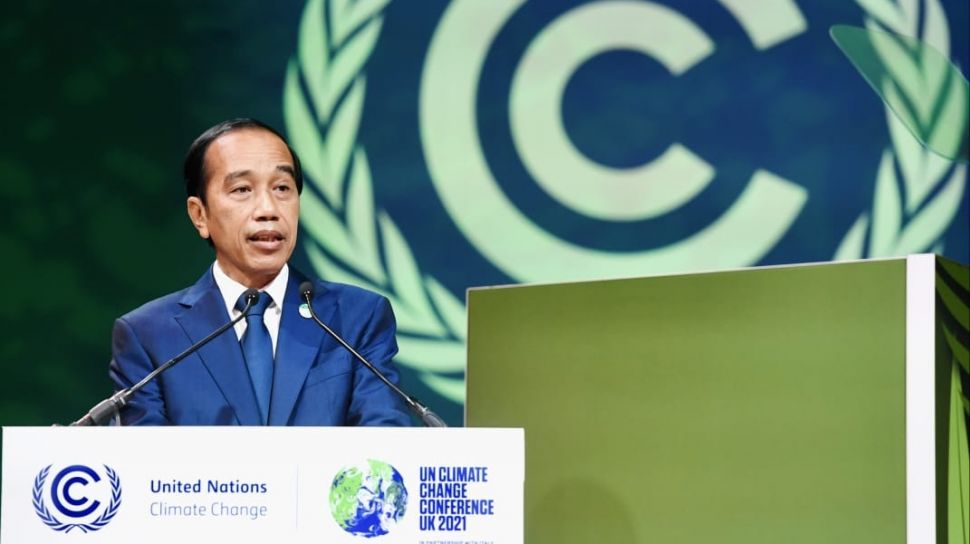 Suara.com – President Joko Widodo (Jokowi) said that the success of climate management in Indonesia can be achieved because it places climate action in the context of sustainable development.
The consideration of environmental aspects with economic and social aspects, said Jokowi, must be combined.
"Sustainable forest management policies must combine environmental with economic and social considerations. Partnerships with the community are also prioritized," said Jokowi, who was one of the speakers at the World Leaders Summit on Forest and Land Use which was held at the Scotish Event Campus, Glasgow, Scotland in his statement, Tuesday (2/11/2021).
In front of world leaders, Jokowi explained that the social forestry program was created so that forest conservation is accompanied by the creation of livelihoods for the surrounding community.
Also Read:
President Jokowi's Response to the News that SBY will seek treatment abroad
Jokowi called this important, because 34 percent of all villages in Indonesia are located on the border or in forest areas.
"Millions of Indonesians depend on the forestry sector for their livelihood. Ignoring this is not only unrealistic, but also unsustainable," said Jokowi.
The former governor of DKI Jakarta said that 90 percent of the world's population who live in extreme poverty depend on forests.
Misusing the issue of climate change as a trade barrier is a big mistake.
"This will erode trust in international cooperation to overcome climate change, and even hinder sustainable development, which is really needed," he added.
Also Read:
Wants to go abroad for treatment because of prostate cancer, SBY calls Jokowi
Therefore, Jokowi considers that forest management within the framework of sustainable development is the only option. Indonesia is ready to share experiences and knowledge for that.
"Let's manage forests that are pro-environment, pro-development and people-centered. This is the main goal of the Forest, Agriculture and Commodity Trade Dialogue, or FACT Dialogue, which is co-chaired by Indonesia and the UK so that forests will become a sustainable solution for climate action. global," said Jokowi.
Earlier at the COP26 World Leaders Summit, Jokowi announced that Indonesia's forestry and land sector would achieve a Net Carbon Sink by 2030. This is Indonesia's commitment to be part of the solution.
"Indonesia's real achievements in the forestry sector are undeniable. In 2020, the rate of forest fires is minimized to 82 percent," he said.
In 2019, the reduction in emissions from forests and land use was reduced to 40.9 percent compared to 2015. Indonesia's forest deforestation also reached its lowest level in 20 years.
"This was done when the world last year lost 12 percent more primary forest than the previous year and when many developed countries experienced the biggest forest and land fires in history," Jokowi explained.
In the meeting, there were only three speakers who received a special invitation from British Prime Minister Boris Johnson.
In addition to the British Prime Minister, who had the opportunity to speak were the President of Colombia and the President of the Republic of Indonesia.
During the event, Jokowi was accompanied by Coordinating Minister for Maritime Affairs and Investment Luhut Binsar Pandjaitan and Minister of the Environment Siti Nurbaya Bakar.
.