Newsdelivers.com
–
The cause of infertility, aka not being able to get pregnant, is not only because of women, yes, Mother. Male fertility factors can also affect the success of having children.
In addition, infertility or infertility can occur due to a combination of factors, between male and female factors. Quoting a book Promil Without Troubled by Teman Bumil, research found that as many as 40 percent of infertility cases are caused by women, 40 percent from male factors, 10 percent are a combination of the two, and 10 percent of unexplained causes.
The cause of infertility in men can be identified by conducting medical examinations, for example knowing the quality of sperm in men. Doctor of philosophy in nutrition at the University of Iceland, Atli Arnarson BSc, PhD, says that sperm quality can affect a man's difficulty in having children.
"Fertility refers to a person's ability to reproduce without medical assistance. While men who experience infertility, it is difficult to have children and usually this depends on the quality of their sperm," said Arnarson, quoted by Antara. Healthline.
Risk factors for infertility
Infertility or infertility is a condition where pregnancy does not occur in married couples who have had sex without using contraception regularly, Mother. Here are 7 risk factors for infertility in men:
Age: the older one gets, the lower the fertility rate of a person.
Stress: stress can interfere with hormones in the body that cause infertility.
Malnutrition: Food intake can affect a person's fertility level.
Weight: People who are obese or anorexic greatly affect their hormonal production, thereby affecting fertility.
Sexually transmitted diseases: Sexually transmitted diseases can be transmitted during sex. Someone who has this disease, the fertility rate will decrease.
Smoking: cigarettes contain nicotine which can thicken the blood, so it cannot circulate to the body smoothly, including the blood vessels in the genitals.
Alcohol consumption: Alcohol can lower testosterone levels, which can affect fertility.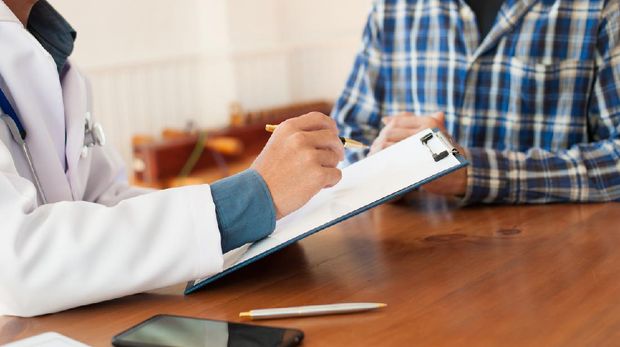 Male Fertility Illustration/ Photo: iStock
Abnormalities that cause infertility
Abnormalities that cause infertility in men can vary, Mother. Some are caused by the condition of the reproductive organs, some are due to certain disorders or syndromes.
Well, launching from the book Muslimah Pregnancy Guide by DR. Dr. H. Imam Rasjidi, SpOG (K) Onk, here are 12 disorders that cause infertility in men:
1. Sperm shape and movement is not perfect
The shape and movement of the sperm must be perfect to be able to move towards the ovum for fertilization to occur, Mother. If the shape and structure is abnormal or the movement is not perfect, then the sperm cannot reach the ovum.
2. Low sperm concentration
A normal male sperm concentration is 20 million sperm/ml of semen or more. If the amount is 10 million/ml or less, then this indicates a low concentration or less fertile. On the other hand, if the concentration is 40 million/ml, it means that it is very fertile.
"It's rare for a man to not produce sperm at all. Lack of sperm concentration can be caused by overheated testicles, for example from always wearing tight pants, ejaculating too often (hypersex), smoking, consuming alcohol, and fatigue," wrote Imam.
3. No cement
Semen is the fluid that carries sperm from the penis to the vagina. If a man does not have semen, he cannot ejaculate. This condition is usually caused by an illness or accident that affects the spine.
4. The testicles do not come down
Undescended testicles can occur due to congenital abnormalities from birth. The condition occurs when one or both testicles (testicles) remain in the abdomen and do not descend into the scrotal sac.
In this condition, sperm production may be disrupted because the temperature in the abdomen is higher than the temperature in the scrotum.
5. Lack of the hormone testosterone
Hormones play a very important role in the male reproductive process, Mother. Testosterone deficiency can affect the ability of the testes to produce sperm. When this happens, then men can become infertile.
6. Varicocele
A varicocele is a varicose vein or widening of the veins associated with the testicles. Varicose veins can be caused by damage to the valve system of the veins, causing the veins to dilate and collect blood. As a result, men can experience impaired testicular function in producing sperm.
7. Infection
Infection can be a cause of infertility in men. The infection can temporarily affect sperm motility.
Examples of infections that often cause infertility are sexually transmitted diseases, such as chlamydia and gonorrhea. Both of these diseases can block the passage of sperm to the ovum.
8. Re-ejaculation
Reverse ejaculation occurs when the semen that is secreted turns back into the bladder instead of out through the penis during ejaculation. The causes of back ejaculation can be various, Mom. Some of these include diabetes, bladder, prostate, or urethral surgery, and the influence of certain medications.
9. Hipospadia
According to Pediatrician, dr.Melisa Anggraeni, M.Biomed, Sp.A, hypospadias is a congenital disorder since newborns, where the position of the urinary opening is not in place or in the middle of the penis. The position of the urinary tract in this condition can be under the penis, shaft of the penis, or in the testicles (testicles).
"It's about 10 cases out of 1,500 births," Melisa told HaiBunda, some time ago.
Some patients with this condition may have other genetic or hormonal disorders. If not treated immediately, a person with hypospadias can experience problems with ejaculation, erection, and difficult for sperm to reach the cervix.
10. Sexual problems
Sexual problems can be a cause of infertility in men. Some examples are erectile dysfunction, premature or premature ejaculation, and pain during intercourse (dyspareunia). The use of certain oils or lubricants also needs to be considered because some are toxic to male sperm.
11. Genetic disorders
Testicular growth may become abnormal and may not produce sperm due to genetic disorders, such as syndrome Klinefelter. In this genetic disorder, a male has two X chromosomes and one Y chromosome instead of one X and one Y.
12. Blockage in the epididymis
Some men are born with a blockage in the testicular area that contains sperm, namely the epididymis or ejaculatory duct. There are also those who do not have blood vessels that carry sperm from the testes to the penis opening.
Also check out the 4 advantages of having sex during pregnancy, in the following video:
[Gambas:Video Haibunda]
(ank / som)
.