Newsdelivers.com
–
You may already be familiar with silver man phenomenon, often found on the road. Even recently, netizens were excited about the existence of a silver man who was still a 10 month old baby!
Quote from secondsHeatlh, this silver man uses screen printing paint in his action, Beauties. Then the paint is mixed with kerosene or cooking oil which is reused, if the mixture starts to crumble due to sunlight.
So, how risky is it for the skin? Here's a review according to a dermatologist: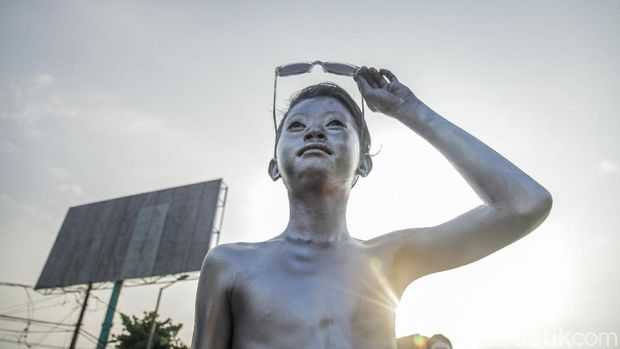 A number of teenagers who paint their whole body with silver color earn money by entertaining motorists in the Kalimalang area, Bekasi. This is how it works./ Photo: Rifkianto Nugroho
Risk of Allergies to Cancer
"Everything that is applied or given to human skin, even though it is actually something that can be applied to the skin, it still has the potential to cause problems, the most common being irritation or allergies," said Dr. Arthur S Simon, SpKK, a specialist. skin from my skin doctor clinic, quoted from detikHealth, Tuesday (28/9).
"So anything that is allowed to be given to the skin can still cause problems, especially if what is applied or given to the skin is not something intended for human skin," he continued.
In line with Dr. Arthur, on another occasion, a dermatologist and gynecologist, Dr. Fitria Amalia Umar, SpKK, M Kes, said that all ingredients that are not suitable for the skin can be dangerous. The effect may not be felt in a short time, Beauties, but it will happen in the long run.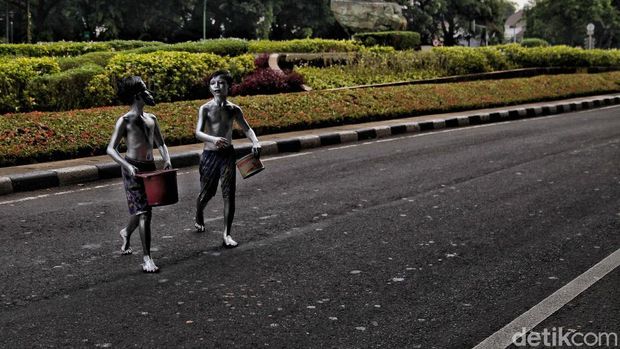 Rido (10) and Putra (10) sing as silver men to help their parents' economic burdens affected by the COVID-19 pandemic/ Photo: Pradita Utama
"For a short time we have known contact dermatitis such as itching, sores, and sores which are sensitive skin reactions. There are also rashes and blisters that are similar to Steven Johnson's syndrome. In addition, there are long-term effects due to exposure to harmful chemicals such as cancer," he said. dr. Fitria, quoted from detikHeatlh.
Therefore, the use of screen printing paint used by silver people is actually not recommended, because it can cause various new problems, especially on skin health.
———————
Want to be one of the readers who can take part in various exciting events at Beautynesia? Come on, join the reader community Beautynesia B-Nation. The method REGISTER HERE!
(fip / fip)
.