Some time ago, Pradikta Wicaksono or who is familiarly called Dikta 'Yovie & Nuno', on his personal Instagram opened his voice to respond body shaming which was addressed to him who because of his dark skin and body that looks thinner to be suspected of using drugs.
In the post, Dikta wrote a long caption to firmly refute the responses that netizens sent to him. One of them is that the explanation for his current body changes is that he is active in sports freediving on a regular basis.
"Why are you so skinny? Freedive it's an anaerobic exercise that burns more calories than regular exercise. I freedive in a week can be 3-4 times. So yes, I'm definitely skinny," said the vocalist of the band Yovie & Nuno in his upload on Instagram, Friday (24/9).
Then what does it mean freediving? Can it really make you skinny, Beauties??
Extreme Sports
extreme sports / instagram.com/dicta
Freediving is a free-diving activity without the help of a breathing apparatus such as a scuba tank. Thus, requiring you to hold your breath while under the surface of the water in one breath.
The world's largest recreational dive and dive training organization, Professional Association of Diving Instructors (PADI) describes freediving as a recreational and competitive sport underwater. In addition, this free diving activity is considered an extreme sport because it has a fairly high risk.
To do this extreme sport requires excellent physical condition, physical strength, especially the endurance to hold your breath for a long time under the surface of the water.
Requires Certification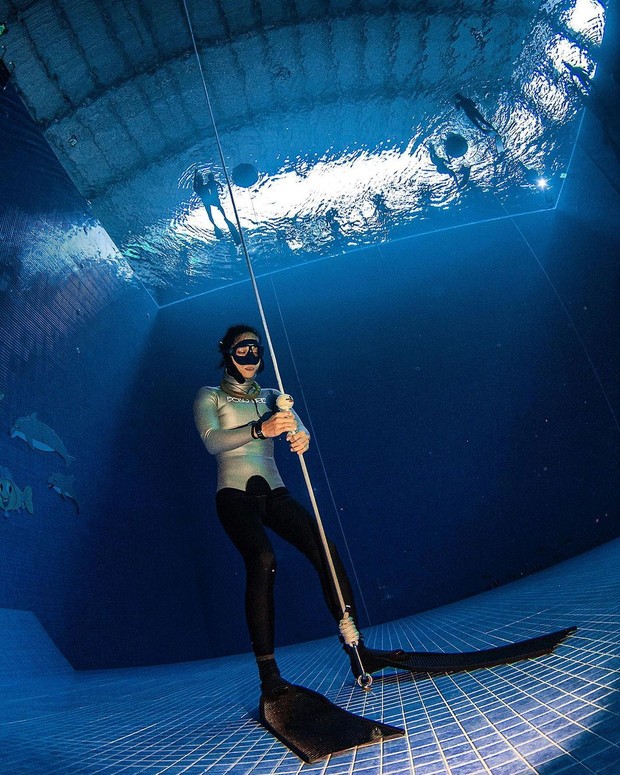 need for certification/ instagram.com/dikta
To do freediving, you may encounter a number of problems when attempting freediving without proper knowledge or training. These problems include running out of air before it can reach the surface, as well as air and water pressure problems such as a ruptured eardrum or Caisson's disease or decompression.
So, it is highly recommended that you take the certification as a freedriver. Through this certification, you will learn the theory and training needed in sports freediving.
Burn Calories Effortless
burn calories / instagram.com/dikta
The average diver will burn between 400 and 700 calories per dive depending on the current, water temperature and duration. In comparison, jogging burns 400 to 500 calories per hour.
Considering the calorie intake needed for a man is 2000 calories a day and 1500 calories for women, two dives burn 400 (minimum) calories one dive by 40% of the daily calories needed by a man.
In the water, even if you are in the tropics where the temperature is cooler than normal body temperature, to keep the body warm, your body will increase the body's metabolism to produce heat. This process burns more calories than usual without you feeling tired like exercise in general. The colder the water, the more calories it burns.
_______________
Want to be one of the readers who can take part in various exciting events at Beautynesia? Come on, join the Beautynesia reader community, B-Nation. The method REGISTER HERE!
(laugh/laugh)
.