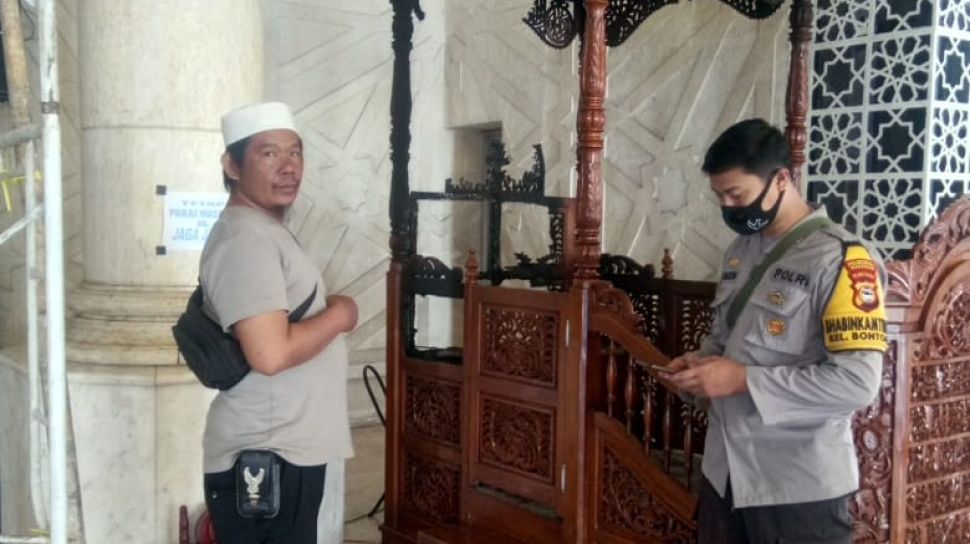 Suara.com – The Head of the General Investigation and Criminal Unit (Kasat Reskrim) of the Makassar Polrestabes, Kompol Jamal Fathur Rakhman, confirmed that the suspect with the initials KB, the perpetrator of the arsonist of the pulpit of the Great Mosque of Makassar, South Sulawesi, tested positive for narcotics.
"We have carried out a urine test for the suspect. The results of the urine test in question are positive for narcotics. In addition, we have also carried out a blood test at the laboratory for the narcotics content in him," said Kompol Jamal conveying the development of the case in Makassar, Monday (27/27). /9/2021).
In addition to examining the suspect's urine and blood, his party also examined the psychological condition at the South Sulawesi Regional Police as well as psychological conditions at the Bayangkara Hospital. The results are not yet available because the examination is still ongoing.
"For further developments, we will convey. Until now, the suspect is still the only initial of KB," said the former Panakukang Police Chief.
Also Read:
The case of Ustaz being shot until the pulpit of the mosque was set on fire, Mahfud MD: Pure Criminal Action
Asked if the victim did often use drugs, he said, from his confession, since 2015 he has been taking drugs until now.
However, his party is still investigating what kind of narcotics the suspect consumed and where he got the illicit goods, including whether he was ever arrested by the police.
"We are currently investigating whether he has ever served a crime related to narcotics abuse or not. Activities at the mosque are normal. And three witnesses have been given statements," said Jamal.
Previously, the Director of the Makassar Dadi Special Hospital (RSKD), Doctor Arman Bausat, said that the personal data of the family planning suspect that had been matched indicated that he had been a patient at the hospital.
"After we matched it was true. A psychiatrist had treated him, and had also confirmed that the perpetrator had been treated here," he said.
Also Read:
JK strongly condemns the burning of the pulpit of the Makassar Grand Mosque
From the patient data, it was found that he had been treated in 2021, but he did not know what month he was treated and discharged from the hospital. The results of the examination, family planning has a history of mental disorders and often consume illegal drugs.
The motive for the burning of the pulpit of the Great Mosque of Makassar from the results of police investigations, the suspect did it because he was often reprimanded by mosque administrators and security when sleeping in the mosque. The incident was purely a criminal act carried out by the perpetrators on Saturday (25/9) in the morning. (Source: Between)
.