Newsdelivers.com
–
Beauties, having colored hair does make you look fresher. But, many are still hesitant to dye their hair. In addition to worrying about the color results not meeting expectations, there is also a risk that your hair will break more easily after coloring it.
L'Oréal Research and Innovation collaborated with the University of Ioannina to conduct research on this. This research has succeeded in identifying if the high metal content in hair fibers is the cause of damage and the results of balayage coloring, and/or lightening that are not as expected.
The higher the metal content in the hair, the higher the chances of hair breakage and color results that do not match expectations.
There is a surprising fact, based on L'Oréal Pro Map Data 2021, it was found that as many as 67% of Indonesians have high metal content in hair fiber. Does that mean we always have to worry about coloring our hair? Of course not!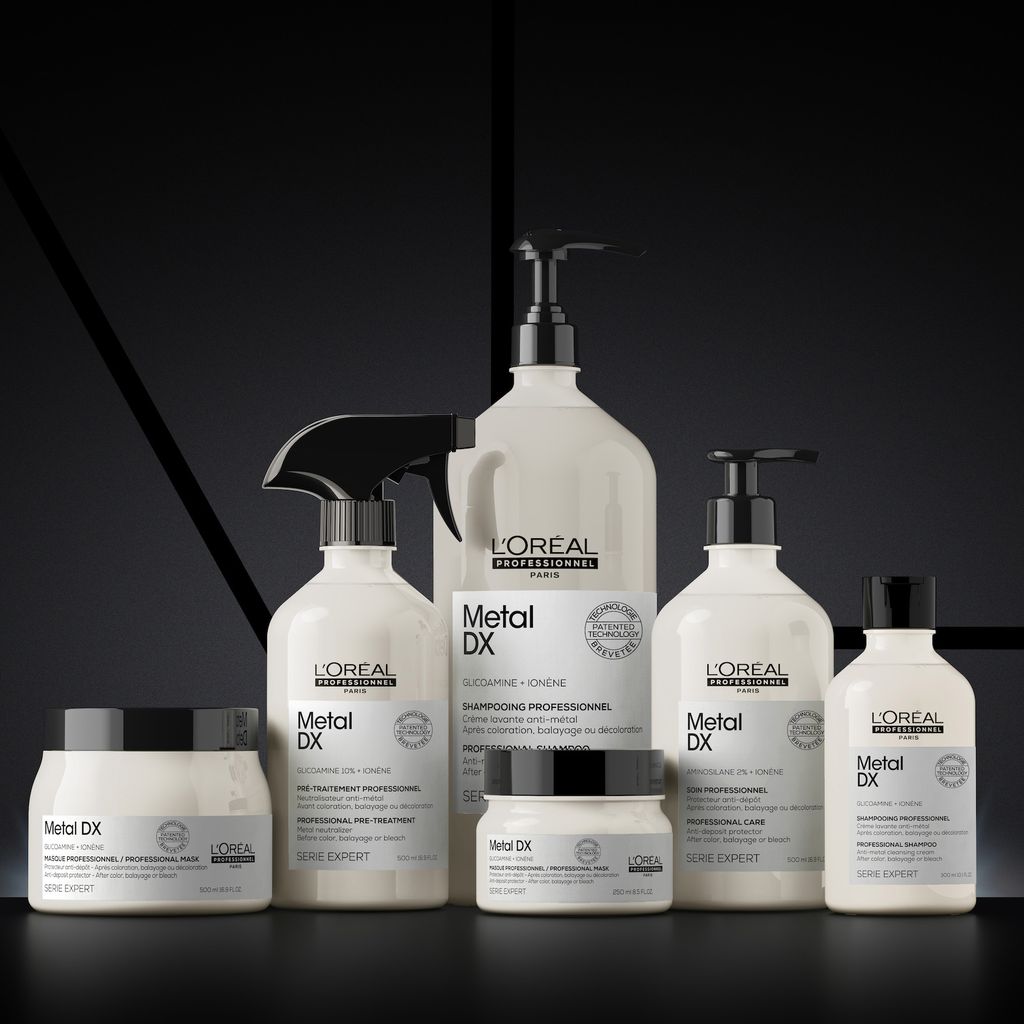 Loreal Professional Metal DX / Photo: Documentary Loreal Professional
L'Oreal Professionnel has just released a new product specifically for those of you who always have problems and dilemmas every time you color your hair. It's Metal DX!
The first hair care series with an active Glicoamine formula that can remove metal from the hair so that it guarantees the color of your hair as expected and reduces the risk of your hair breaking!
Indra Tanudarma, Head of Education, L'Oréal Professionnel said that Metal DX's latest innovation which consists of a series of products and three hair care protocols has been proven to reduce the risk of hair breakage by up to 87%.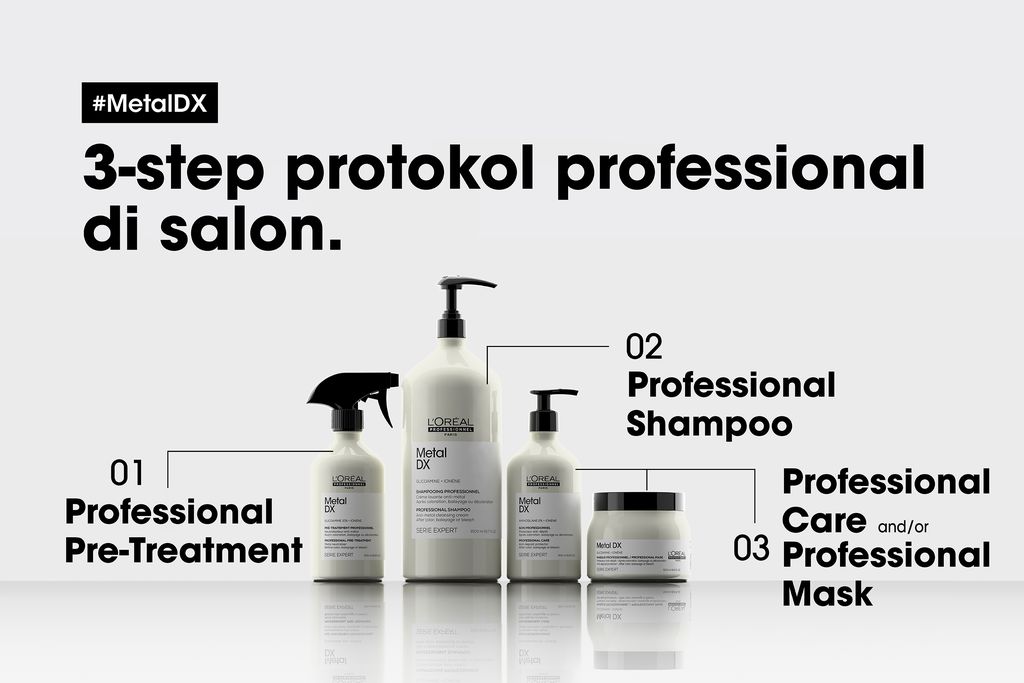 Loreal Professional Metal DX / Photo: Documentary Loreal Professional
What are the three Metal DX hair care protocols?
Metal DX Professional Pre-treatment to neutralize metal before coloring, balayage, and lightening with 10% Glicoamine content
Metal DX Professional shampoo to clean the metal that sticks to the hair fiber after coloring
Metal DX Professional Care to maintain the strength of the hair shaft with 2% Aminosilane content or also use Metal DX Professional Mask which protects hair strands from particle attachment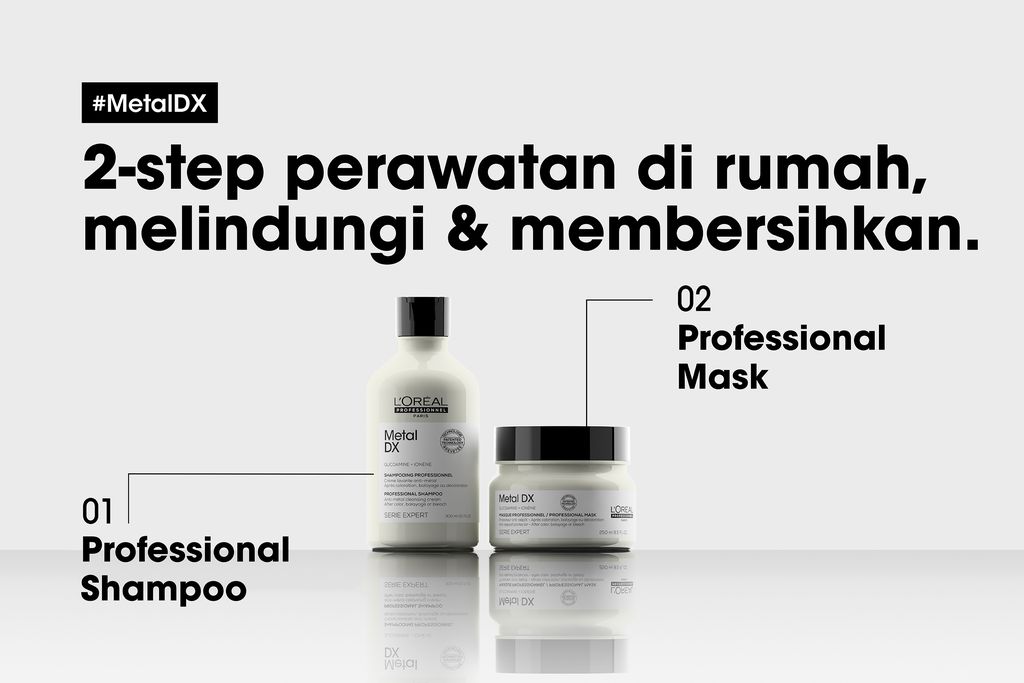 Loreal Professional Metal DX / Photo: Documentary Loreal Professional
In addition to treatment at the salon, hair care at home is also important. After the hair coloring process, usually the hair becomes more prone to absorb metal. Coupled with UV rays that can make reflections warmer, hair color even becomes dull, and fades. Metal DX comes with Metal DX professional shampoo and Metal DX professional hair mask so that the results of coloring, balayage, or lightening are maintained properly.
L'Oréal Professionnel is giving away a 15% discount promo for French Balayage with Metal DX services, as well as thousands of 10ml Metal DX Shampoo samples & 15ml hair masks specifically at the Beautynesia microsite. Sign up now!
(arm2/arm2)
.